M3M plans to get debt-free by March 2022, anticipating launching 10,000 independent floors in 2021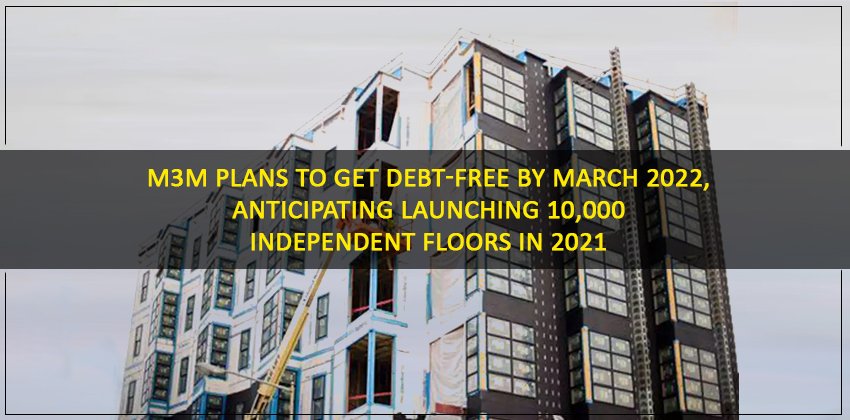 M3M Gurgaon is counted amongst the most reputed real estate developers based in Delhi NCR. It holds 4 crore sq.ft developed and under developed area. Today, M3M Gurgaon has 18 premium M3M residential projects in Gurgaon, and 13 M3M Commercial projects Gurgaon. The developer excels in building world class real estate projects that are recognised for robust construction quality, top line architecture and meticulously crafted designs.
M3M Gurgaon is planning to get debt-free by setting off 1,700 crore from committed receivables by the March end. The company plans to acquire three land parcels in Gurgaon to cope up with the demand of independent floors and soon going to launch 10,000 such units by year end, as told by top officials of company to Money control.
As said by the M3M Group director, Mr Pankaj Bansal  "We have a strong cash flow which is helping us repay the loans and our target this year will be to clear them by March 2022 and bring down the loans to zero. We would be paying off Rs 1700 crore by March 2022 from committed receivables. We have already repaid Rs 500 crore debt since the lockdown was lifted".
Mr Pankaj Bansal clarified that the new growth capital will be the only loan that lasts pending on the company's books and this would be to do with the three new land parcels that company would be acquiring to build independent floors.
M3M Gurgaon strives to deliver projects on time and has already completed 10 projects in the 9 months. The company has expansion plans as it anticipates launching 10,000 independent floors this year.Mr. Bansal further stated "The Company is also getting big-time into low rise development,"
M3M Gurgaon is considering launching 3 new projects in Gurgaon in a phased manner. These projects would spread across Golf Course Extension, Northern Peripheral Road and on Southern Peripheral Road.
Mr. Pankaj further told Money Control that "The located in Golf Course Extension would be priced at Rs 1.5 crore; one in SPR about Rs 1 crore and one in the NPR will be priced at Rs 80 lakh,"
As told by Mr. Bansal, M3M Gurgaon is going to invest Rs 900 crore on acquiring three land parcels. The company has already invested about Rs 250 crore on the 25 acres land it acquired from Ireo last year. It would be acquiring one land parcel from Piramal for Rs 350 crore on NPR and another plot for the same amount on SPR.