Leading Commercial Retail projects in Gurgaon you must consider Investing in 2020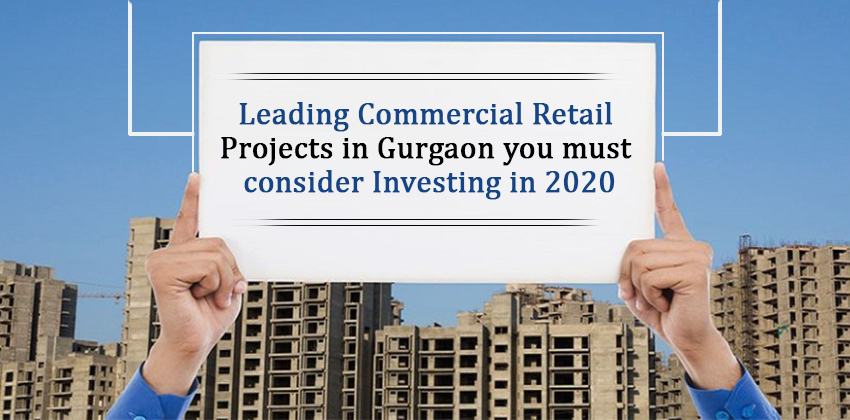 Millennium city, Gurgaon is the leading commercial destination of the country that has magical power to attract organizations to invest here. This city provides them the vital ecosystem to establish their foothold. The rapid urbanization of Gurgaon further boosts its prospects of being acknowledged as the largest commercial center of India. Many small and large organizations have offices located in the region further boosting employment opportunities for people looking job in myriad fields.
This city registers the highest number of start-ups due to the ease of doing business in the region. Apart from this, Gurgaon commercial real estate market is also supplementing the growth of leading retail stores. National capital regions especially Noida, Greater Noida, and Gurugram are considered as the most preferred realty investment hubs of India. Let's quickly have a look at some sought-after commercial projects in Gurgaon that can help businesses script their success story.
M3M Urbana – M3M Urbana is new age commercial development which sprawls over 17-acres land and is based on 'live, work, shop, play' concept. This commercial development has a massive 500 meter facade facing the main road.
M3M Urbana offers the best mixed use property housing retail hub, F&B, modern day workspaces, entertainment zone, IT Park and serviced apartments. Strategically positioned in sector 67, Gurugram, M3M Urbana Retail, M3M One Key Resiments and My Den are part of the masterpiece M3M Urbana.
The commercial complex comprises of Leed Gold certified business hub and office spaces for top brands. M3M One Key Resiments are operational in partnership with a 4 star hospitality partner. M3M Urbana offers easy reach to South Delhi, NH-8, International Airport and Manesar.
Omaxe chandni Chowk – Omaxe Chowk is located in the shopping capital of Delhi, i.e. at Chandni Chowk. It has been designed as an 'under one roof' concept. The strategic location of Omaxe Chowk makes it easily accessibke to key landmarks including Sis Ganj Gurudwara, 5 min. walk from Red Fort, 3 min. walk from Old Delhi Railway Station, among others.  
Omaxe chandni Chowk is one stop solution to all your retail, entertainment, and shopping needs. The biggest commercial development is sprawled over 4.5 acres land which comprises 3 levels of retail spaces, food and beverage joints, multi-cuisine restaurants, and 5 levels of parking with a capacity to accommodate 2100+ cars.
Mahira Bazaar 63 A offers ideal business prospects to those planning to open general store, Footwear shop, beauty parlour, chemist, restaurants, bakery shop, stationery, banks, electrical, grocery stores, vegetable shop, garment shops etc. . Mahira Bazaar 63 A comprises of total 60 shops with 30 shops on Ground floor commercial 1, 28 Shops on ground floor commercial 2, and 2 shops on first floor commercial 2. Mahira Bazaar 63 A Gurgaon offers unmatched location advantages while offering brilliant connectivity to other regions of NCR, including Delhi.
Elan Miracle is located in sector 84, Dwarka Expressway, Gurgaon and offers retail shops, multiplex, and food court space. It is a mixed use development project which is spread across 7.5 acres of land. This thoughtfully designed commercial project holds space for 2500 commercial units. The size of the retail space starts from 300 sqft onwards and price starts at Rs. 70 lacs onwards. You are bound to get assured return and lease guarantee on this commercial development.
AIPL Joy Street is located in Sector-66 Gurgaon, Gurgaon, Haryana. These fully furnished & fully Loaded Studio Apartments can fetch 11% Assured Rental and offer100% Lease Assistance. AIPL Joy Street project offers a great potential of rental income. AIPL Joy street is a complete commercial destination that outfits Shops, Entertainment, Food Hubs, Restaurants, and Cafes Etc.