Krisumi Waterfall Residences are in 100 Crores league Now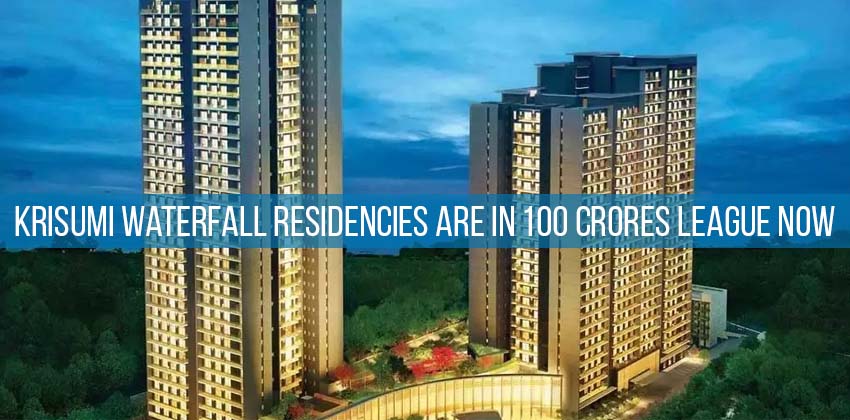 India's first Indo-Japanese real estate company, Krisumi Corporation has registered huge sales worth 175 crores from September to November 2021 on 84 units of maiden segment. Owing to robust economic recovery and improve demand, the company has made 300 % growth in the last 3 months of the year as compared to the sales performance in September to November 2020.
Mohit Jain, the Managing Director, Krisumi Corporation emphasized "The Rs. 100 crore sales milestones put Krisumi firmly on track to achieve its goal of crossing Rs. 500 crore revenue in FY22. Our lavishly appointed family-friendly apartments, 30 different customizations, 7 certificates of quality, competitive price and seamlessly connected location are truly making Krisumi Waterfall Residences (/topic/waterfall-residences) the preferred choice in the market. It is indeed a stupendous achievement and a testimony to the unflinching trust reposed in us by our patrons. At Krisumi, we are committed to redefining the Indian realty landscape through bespoke offerings, best-in-class construction and superior customer service,"
Vineet Nanda, the Director, Sales & Marketing, Krisumi Corporation states "The pandemic has reinforced the significance of homeownership. It is indeed an opportune time to buy a dream homeagainst the backdrop of economic stability prospects and conducive policy landscape. We foresee sales to gain further momentum in the coming months,"
Krisumi Group is a leading joint venture between Krishna Group (An automotive giant) and Sumitomo Corporation (Japanese conglomerate). The project is a flagship residential project of Krisumi Corporation that exhibits the confluence of brilliant Japanese art and intricate architecture with Indian aesthetics.
Waterfall residences ensure great connectivity as it is strategically located on the confluence of Gurgaon three widest roads of Gurgaon – National Highway-48, Central Peripheral Road and Northern Peripheral Road.
This international standard project is a part of integrated township Krisumi City that features a high-end retail mall, a premium hotel and office spaces and education institutions. The first phase of this project has 433 units including a 36,000 sq. ft. (3344.5 sq. m.) clubhouse. Three towers of the project A, B and C have already been launch wherein the first 2 towers were launched earlier and the 3rd tower was launched during the pandemic. There are 239 units in Towers A and B and 194 units in tower C whih are built on 34th floor. The project will have top few floors dedicated to limited addition fully furnished apartments designed exclusively for expatriate community.
The project is getting constructed in full swing. If we talk about the key USPs of the project then it will include an opulent 2-level fully equipped and residents-only clubhouse. The key amenities offered by the developer includes gymnasium, restaurant, bar lounge, spa and salon, mini-theatre, fine dining, alfresco dining with pool view, tennis court, squash, etc.
The Krisumi Waterfall residencies features the first luxurious air-conditioned tower lobbies in the apartments belonging to this ticket size. As far as the name of the project is concerned, then the Krisumi denotes convergence of Kriya (creation in Sanskrit), and Sumi (the Japanese word denotes fine living). The projects conceptualization, design and built is based on Japanese craftsmanship in sizes that maeets the demand of today's fine living.