Khattar is prepared to allocate 30 acres for the relocation of the Kherki toll and has conveyed this to Gadkari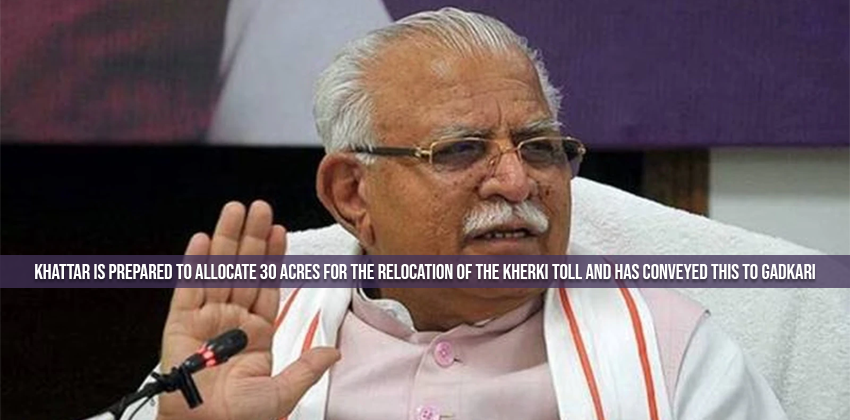 Chief Minister Manohar Lal Khattar recently wrote to Union Minister Nitin Gadkari, commenting that his government was ready to hand over to the National Highway Authority of India (NHAI) 30 acres in Panchgaon to shift the toll plaza from Kherki Daula. Khattar also highlighted that the concern of new sector residents and Manesar industrialists that would give the toll plaza in Kherki Daula led to long snarls during rush hours. 
For a long time, residents have also raised objections to the need to pay for a toll plaza while moving within the city. 
The move is expected to resolve the existing traffic bottleneck, contributing to the overall development of the region. The shifting of the toll plaza has been in the works for almost six years now. In 2017, the state government offered NHAI 63 acres in Sehrawan for free. Some villagers moved to the National Green Tribunal and secured a stay on the decision. In 2021, the government offered 30 acres in Pachgaon to shift to toll and it constituted a committee of senior officials to decide on the compensation for villagers. 
NHAI was reluctant to shift the toll plaza, pointing out that the Dwarka Expressway. Even in the 29km Dwarka Expressway. 18.9 km falls within the city's limit and is likely to open soon. The state government recently held a meeting with NHAI officials to push for the toll plaza's shifting. No consensus could be reached, but the matter is under consideration, an NHAI official said. 
NHAI has some reservations about the land offered to them, it is also said to need more land. So, a proposal to add 10 acres is being prepared by HSIIDC, offering it if needed. Said a GMDA. 
New sector residents, meanwhile, have no little hope that the toll will be shifted anytime soon. The issues have become political tools now, with several promises, but none of them has materialized. 
Manoj Tyagi, a general secretary of the IMT Manesar industry association, insisted on the need for shifting the toll plaza to ensure a seamless movement of vehicles. If the residents are not doing it, they must have at least made it free for the local residents. In fact, the agency is going to build the highway had it recovered.