Gurugram Emerged as a Real Estate Powerhouse in 2023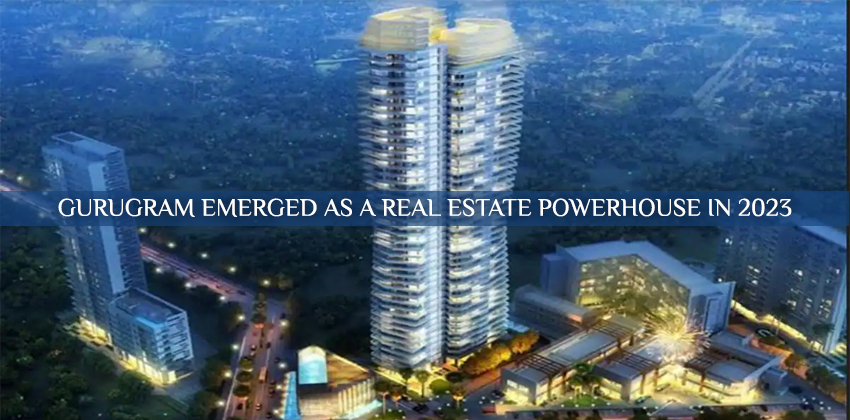 Gurugram has emerged as one of the unrivaled leaders in India's booming real estate market in 2023. The city's dynamic growth in reshaping the landscape is driven by a confluence of factors that are revolutionizing the industry. 
From luxury independent floors to sustainable co-living spaces and spacious homes, developers are crafting visionary solutions. It would also cater to a diverse range of preferences. Gurugram is at the epicenter of this transformation, witnessing a surge in innovative projects tailored to meet the evolving needs of the market. 
Vivek Singhal, CEO, of Smartworld Developers, says, the city stands tall not only as a city of promise but as an indisputable leader in India's real estate space. This residential segment is expected to spearhead this phenomenal growth while changing the preferences of homebuyers. The Gurgaon market has also witnessed an astounding growth of 20% year-on-year price appreciation with Dwarka Expressway, Golf Course Extension, and New Gurgaon topping the charts. 
In fact,  Golf Course Extention Road has also become the nerve center of Gurgaon due to the flurry of infrastructure developments, luxury residential projects, office space, retail spaces, entertainment options, and recreational options. According to reports, in 2019 and 2022 the rental price for luxury homes of approximately 2,000 square feet in the Golf Course Extension increased by 18 percent, rising from rs 49,000 per month in 2019 to rs 58,000 per month in 2022. 
Moreover, the Gurugram real estate market has become a buzz with the news of a significant rs 100 crore transaction, involving a sprawling 10,000 square foot apartment complex at The Camellias by DLF on the Golf Course Road. In the April-June 2023 quarter, residential property prices across India experienced a commendable 6% year-on-year increase. Gurgaon led the pack with an impressive 12% year-on-year growth. In fact, the recent data from Magicbricks only serves to underscore Gurugram's meteoric ascent, boasting a remarkable quarter-on-quarter growth of 28.9% far surpassing the national average of 10.4%.
Mohit Malhotra, Founder and CEO of NeoLiv said, the demand can be attributed to Gurugram bringing status as a global hub for industry for industries, start-ups, MNCs, and a substantial-high quality workforce in search of superior housing options. The focus on infrastructure upgradation and augmentation in NCR, especially Gurgaon with its high quality living standard is adding to this demand surge. This momentum is expected to continue as NCR is grappling with housing supply in the mid-premium segment, it has a huge potential building up in this segment. 
In an unprecedented turn of events, residential sales in Delhi-NCR have reached a 10-year high in the first half of 2023. It also has a Gurugram accounting for over half of the units sold, boasting an amazing 52% share. The price range of rs 7,000-7,200 per square foot speaks to the city's immense growth potential. 
Commenting on this, Kunal Rishi, COO, of Paras Buildtech commented that the city is now extended to both first-time and seasoned homebuyers in pursuit of an elevated lifestyle. The change in high-rise living options has seamlessly with post-pandemic preference. The third highest per capita income in India and the highest in Haryana comes with excellent connectivity, top-tier infrastructure, and a diverse range of modern projects including independent floors, gated plotted developments, and soaring apartments. The city is a pivotal residential and industrial hub, beckoning discerning buyers from around the globe. 
When the year unfolds, Gurugram's trajectory seems boundless, promising even greater heights of achievement and innovation. The skyline has a ton of canvas of potential and now boasts architectural marvels that redefine urban living. According to the top industry expert, they demonstrate the limitless possibilities of human endeavor in the realm of real estate. With each passing day, this would continue to inspire, leaving the residents eager to witness the next chapter in its extraordinary journey.