Haryana Permits Registration of Independent Floors as Commercial Units in Licensed Colonies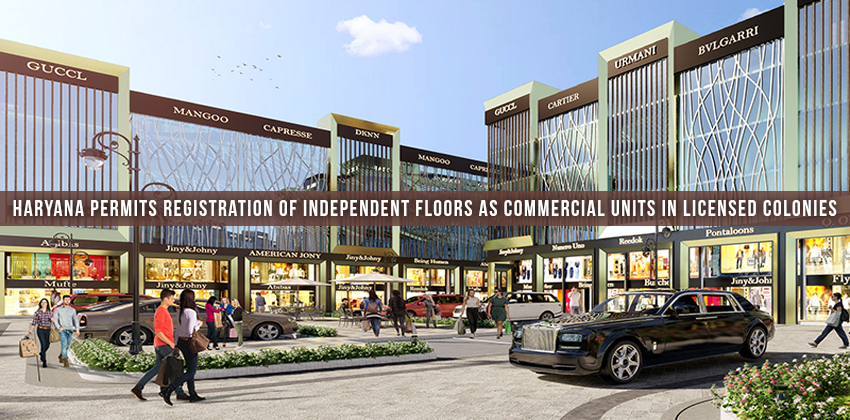 Residents of Haryana are now allowed to register independent floors in properties. These properties are located in licensed colonies as commercial units, widening the scope of a provision that currently exists only for residential units. 
The Haryana Development and Regulation of Urban Areas (Second Amendment) Bill, 2023 which says section 3-C of the act will be passed by the state assembly. This has also made it very clear that registration will be limited to one residential or commercial unit on each floor. 
Some experts said that the move is going to increase demand from professionals who can now own offices or business locations on independent floors. Manohar Lal, Haryana Chief Minister said that there was no statutory provision for registration of independent floors as commercial units in licensed colonies. Some registration was also permitted only in sectors developed by the Haryana Shahari Vikas Pradhikaran (HSVP), the state's urban planning and development agency. 
Therefore, at parity of HSVP commercial development, proposed that section 3-C of the Act might have been amended to allow registration of independent floors in case of commercial plots forming part of the licensed colonies, the chief minister said. 
Experts said that the decision is a welcome move for those with limited budgets. 
Vice president of research at ANAROCK Group, Ashim Chowdhury, said that the buyers or investors might be able to buy a part of the building for self-use or lease and get the property registered. Thus, we might come to know about the increased demand from professionals who can own their office space or business location. 
Most of these spaces are likely to be in shops-cum-offices developed by private builders developers can now liquidate such investors, the chief minister said. He also welcomes the progressive step taken by the Haryana government, said Pradeep Aggarwal, founder of Signature Global (India). 
This decision also showcases a forward-looking approach that will stimulate investment and business growth in the state. He also mentioned that the passage of the bill demonstrates a commitment to fostering a business-friendly environment. This will also ensure that urban development is streamlined and inclusive. He also said that the reform is poised to unlock opportunities for businesses, investors, and entrepreneurs. This flexibility has also undoubtedly attracted both local and global enterprises while propelling Haryana as an investment hotspot.