Golf Course Extension: An Extension Like no Other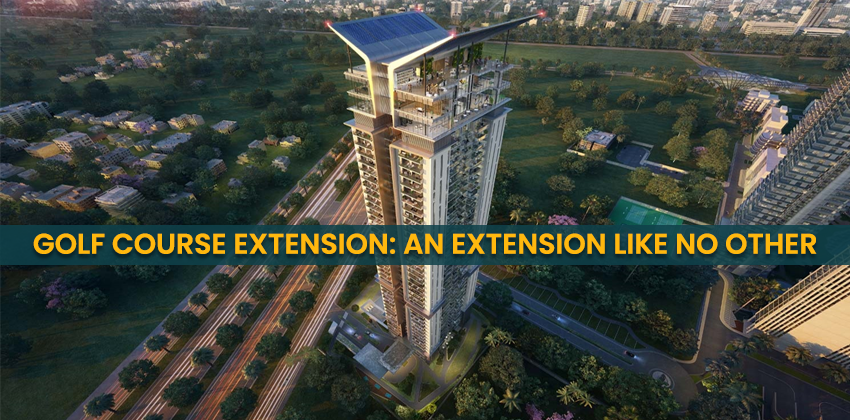 Golf Course Extension continues to be a hot spot that has been attracting buyers like never before
Gurgaon continues to be on a growth trajectory and have multiple zones that continue to develop at a fast pace, trans-form the city drastically. Across formats and price points, be it high-rise or low rise, luxury or affordable, the city offers something that suits everyone's need. Golf Couse Extension is one area that has continues to grow leap and bounds and is offering investment options across the segments. With some of landmarks and iconic projects underway, physical, and social infrastructure par excellence getting in place, the area is on every homebuyers and investors radar. The expansion of the commercial hub in Gurgaon is one of the key drivers of the real estate market. While factors such as connectivity, affordability, and ease of living are important considerations for homebuyers, investors also look closely at the potential for earning a healthy return on their investment. With more businesses moving into the area, there is a greater demand for housing which in turn drives up prices and provides a good opportunity for investors.
"Golf Course Road (Extension) is one of the financial growth corridors owing to excellent connectivity and vibrant social infrastruc-ture. World-class amenities in line with glob-al standards and an indulgent lifestyle with convenience have made it a preferred address of luxury housing. It is one of the prominent micro-markets in Gurugram bolstered by the location advantage, wide accessibility, good connectivity, and robust infrastructure," sug-gests, Pankaj Bansal, director, M3M India.
There is a huge demand for housing in the metropolis each yea; and this has kept sales ticking along nicely. Some areas have outper-formed others, however, and have emerged as the best investment hotspots in Gurgaon. These include Sectors like 50, 52, 57, 49, and others.
Avneesh Sood, director, Eros Group, shares, "Sector 50 is a well-developed area that is con-veniently located near the Golf Course Exten-sion Road. It is a suitable place for renting or buying a place because of its amenities and central location. Sector-52 is one of the most well-known areas in Gurgaon for its affordable property options."
The high demand for residential spaces in the city can be attributed to the attention of homebuyers who aspire for a comfortable and opulent lifestyle loaded with all facilities. "Golf Course Extension has emerged as potential hotspot and has been developing at fast pace. With various projects, offering products across the segment, make the area a proffered choice for homebuyers and investors," asserts Yashank Wason, MD, Royal Green Realty.
Golf Course Road Extension is one of the most promising micro markets as per industry experts. "A spate of infrastructural develop-ments, luxury and premium residential projects, retail spaces, entertainment, and recreation op-tions has made Golf Course Road Extension the nerve centre of Gurgaon. According to an Anarock report, Golf Course Road Extension has witnessed a massive 18 per cent annual rise in rentals in the past few years," discloses Vivek Singhal, CEO, Smartworld Developers.
World-class amenities and an indulgent lifestyle with convenience have made Golf Course (Extension) Road a preferred address of luxury housing
The Golf Course Extension and adjoining areas are witnessing immense growth as many new projects are coming up in the area. "Both commercial and residential real estate is attract-ing investors here looking for higher returns," adds Ashwani Kumar, head sales and strategy, Pyramid Infratech Pvt Ltd. "There is a demand for all the segments of residential properties be it affordable, mid or luxury segment. A lot of projects on Golf Course Extension Road, Sohna Road and adjoining areas are gaining traction among prospective buyers because of the existing and proposed physical and social infrastructure," concludes, Saurabh Shankar, head-sales and CRM, AIPL.
Its time explore the Golf Course Extension Road to an offering that suits your need!