Dwarka Expressway: A Promising Residential Pocket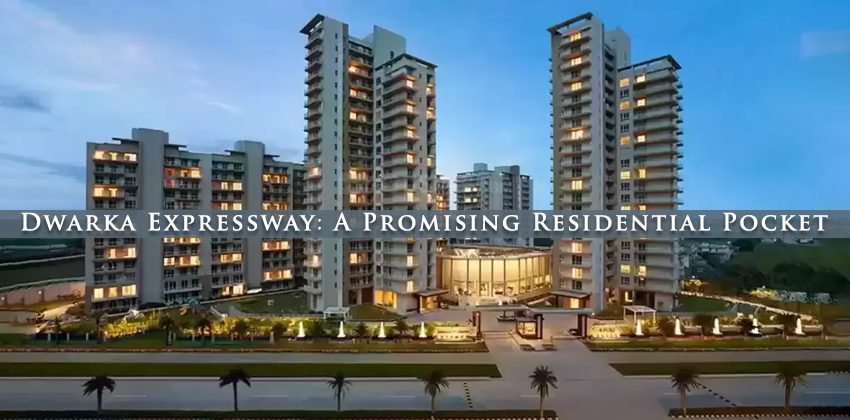 Dwarka Expressway has emerged as one of the most promising realty pockets in Gurugram
Dwarka Expressway (also known as Northern Peripheral Road) is one of the most promising realty hotspots in entire Delhi-NCR. The 28-km long Dwarka Expressway starts from Shiv Murti in Delhi on NH-8 passes through UER-II up to Barthal Chowk then it will take left turn and go straight up to Kherki Daula in Gurugram and it culminates on NH-8, around one km before Kherki Daula toll plaza at SPR, CPR junction.
In the near future, with Dwarka Expressway becoming operational, reaching New Gurgaon via Dwarka Expressway will be seamless. This would also offer connectivity to Indira Gandhi International Airport, Diplomatic enclave Dwarka and West Delhi.
Talking on why Dwarka expressway is emerging as a popular destination for buyers as well as investors, Parikshit Pawar, chief marketing officer, Shapoorji Pallonji Real Estate, says, "The Dwarka Expressway has immense potential for real estate development and is touted as the next growth corridor in the NCR. The 27.6 km long, 8-lane, controlled-access highway intends to improve connectivity between Gurugram, Manesar, and Delhi. The highway consists of four multi-level interchanges, which will lead to better connectivity, thus extending an option for accelerated development and easy access to various parts of Gurugram and Delhi."
The Dwarka Expressway has become a high-growth corridor close to both Delhi and Gurugram, especially from a long-term perspective. It is favoured by both real estate investors and buyers. "The expressway is an ideal destination for real estate and property growth due to its excellent connectivity to the NH-48, seamless reach to IT/ITES hubs in Cyber City, IMT Manesar, Pachgaon, and Udhyog Vihar, and easy access to the Inter-national Airport of Delhi. The open spaces available for development have led many leading real estate players to initiate big projects with state-of-the-art infrastructure and amenities along this first urban ex-pressway corridor. Over 150 projects are currently underway along the Dwarka Expressway to demonstrate this fact, which, in turn, provides home buyers with more suitable options," Pawar adds.
The high rate of appreciation in property prices is the reason for investors' preference for the Dwarka Expressway. About the pockets that are getting maximum traction, Pawar maintains, "With excellent connectivity to arterial roads and growing physical and social infra-structure, areas along the Dwarka expressway, such as Sectors 101, 102, 106, 110, 111, and 113, are seeing huge demand from working professionals and homebuyers alike."
The Dwarka Expressway will also provide a shorter travel time to Indira Gandhi International Airport, further enhancing the value of the property. Hence, sectors like 101, 102, 106, 110, 111, and 113 are the best for investment in terms of in-frastructure and real estate."
Dwarka Expressway dramatically increased the demand for real estate projects in the vicinity soon after the construction was announced. There has been ample development of projects from every sector, including residential and commercial proper-ties like independent floors, high-rise buildings, healthcare and education facilities and a lot more, attracting sig-nificant buyers to the region. Simul-taneously, the further construction of the expressway has connected it to various small villages through service roads, enhancing their accessibility.
"The expressway has become much more than just a connectivity between two major cities. Dwarka Expressway's closeknit network with ample transportation facilities, including IGI Airport, has elevated the corridor's value. Projects devel-oped in this particular region contribute to the state's economy by attracting investors from different parts of the country. Its facilities and availability of amenities have made it a region with investing," says Push-pender Singh, MD, JMS Group.
Though the section of the express-way in Haryana was to be complet-ed by the end of 2023, the work has paced up, and the expressway is set to open for commuters by January 2023. The NHAI (National Highways Authority of India) is preparing to open 700 meters of long bridges built on the service roads of Pataudi Chowk. The further extension of the expressway, the cloverleaf connecting it to the Delhi-Jaipur highway, would be ready soon.