Experience the Inexperienced with M3M Pre-leased Retail Properties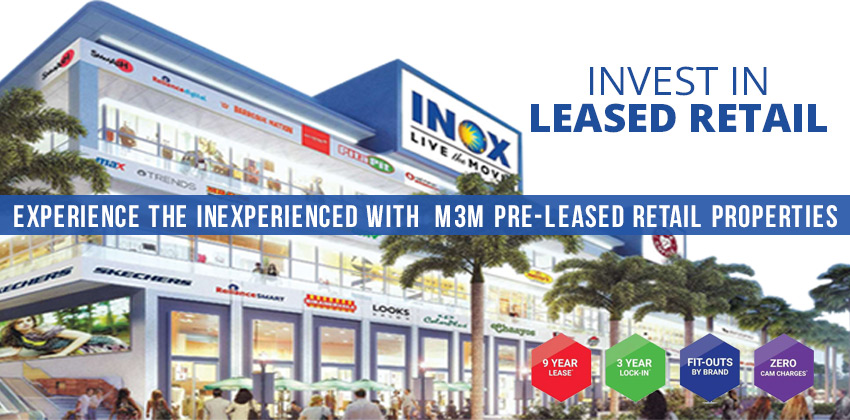 M3M Group is a name that needs no introduction. It has set several benchmarks in both commercial and residential properties. The group is known for delivering quality constructions within the predefined time frame. For the very first time, M3M India launched with a new concept of Pre Leased Retail Properties in Gurgaon. The group has launched their new commercial projects M3M Corner Walk in sector 74 Gurgaon and M3M Prive 73 in sector 73 Gurgaon. M3M India offers once in a life time opportunity to invest in leased retail space. The commercial project offers you ample of benefits including:
9 year Lease Guarantee (from brands)
3 Year Lock-in period
Fit outs by Brand
Zero Cam Charges
M3M Corner Walk
M3M Corner Walk is an ultramodern commercial development launched by M3M India in sector 74 Gurgaon. The project is sprawled across 7.5 acres of land and comprises of retail shops, food court, office space, and studio apartments. The project offers you stand alone work spaces that are suitable for both work and leisure.
Highlights of M3M Corner Walk
Ample car parking area
Efficiently planned AC system
100% power back up
24 hrs security surveillance
Grand lower ground floor entry with seamless ramp and escalators
Vibrant and attractive landscaping
Seamless connectivity through high-speed elevators, escalators and sky bridges
Open-to-sky courtyards
All retail shops are connected to nearby escalators/elevators
M3M Prive 73
M3M Prive 73 Gurgaon is a commercial project architect and designed by UHA London. The project is a perfect mix of high end retail stores and F&B space. The commercial property is strategically located in sector 73, Gurgaon and is constructed over an area of 2.75 acres of prime land. The construction is a 5-level stacked structure including ground floor, lower ground floor, upper ground floor, first floor and second floor. The project offers service apartment, ready to move office space, bare shell office space and retail shops.
Highlights of M3M Prive 73 Gurgaon:
A delightful mix of retail and F&B
Lined with an alluring glass frontage of double-height stores
5-Level stacked structure to ensure maximum visibility
Unhindered layout visually connecting each level
The commercial development offers you a guaranteed income from day one. Here is the brief introduction of the commercial projects M3M Prive 73 and M3M Corner Walk.