Everything you need to know about Krisumi waterfall Residences for modern world-class living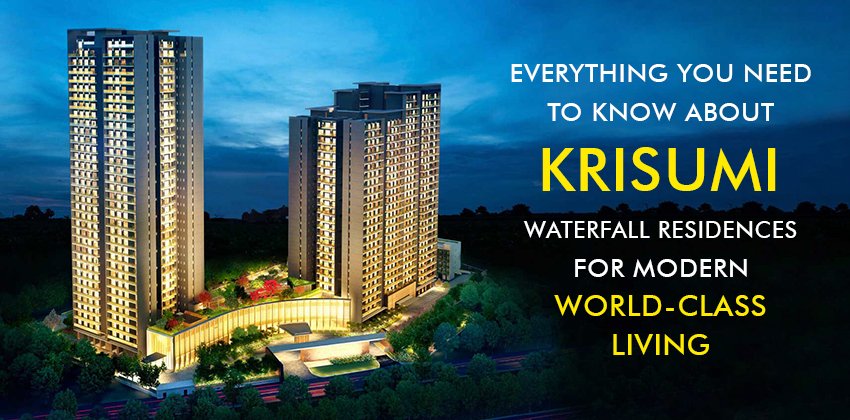 Luxury when coupled with international craftsmanship turns an ordinary dwelling into an extraordinary living experience. Krisumi waterfall residences are no less than a paradise on earth. Krisumi is a 50:50 joint venture between Japanese fortune 500 company, Sumitomo Corporation, and Krishna group from India. The much lauded JV launched the first phase of its grand 65 acres land parcel in sector 36 A, Gurgaon, Krisumi waterfall residences. They are one of the best residential apartments in Gurgaon that promise state-of-the-art design and world class amenities. This property in Gurgaon houses 433 well appointed apartments including a magnificient 36,000 sq ft clubhouse. The ultra luxurious residential project is expected to be delivered by 2024.
The chairmanof Krishna Group and Jrisumi Corporation, Ashok Kapur said that he entered the realty market when it was difficult to sustain. He further said that he entered the real estate market to offer unique offering to the consumers. "We felt that there was a gap in the market which saw the need for a credible developer who could fulfil promises and deliver results to the satisfaction of the consumer. We endeavour to fill in that vacuum through the partnership between Krishna Group and Sumitomo Corporation, both standing on the foundation of deep-rooted culture, strong ethics, a transparent approach and quality-consciousness that defines the Japanese DNA," said Kapur.
"Together, through Krisumi Waterfall Residences, our first project in Sector 36 A Gurugram, we want to bring in a piece of Japan to India that is contemporary and cutting-edge. The modern urban landscape that we are creating will add enduring value not just to the community that resides here, but the entire NCR region," Kapur added.
Sumito Corporation is a well known name in the real estate business that has successfully delivered more than 300 world class realty projects across the world. They are best known for their technical know-how, expertise, systems and quality projects.
Krishna group, on the other hand, is the Indian auto parts behemoth that believes in customer orientation, a firm commitment to quality and strict adherence to timelines. As said by Mr. Kapur, "Our core philosophy has always been transparency, fairness, strict corporate governance, and a collaborative approach, which is the reason we have some of the longest-running joint ventures with some of the largest companies in the world. We believe in the Japanese philosophy of 'quality is never checked, it is produced',".
The strategic alliance of two business giants is expected to bring in ample advantages for the consumers. According to Kapur, joining hands of the organizations is not merely a JV, but a flawless blend of values that they stand for. "Our common vision, work ethics and philosophies make this move a natural extension through which we aim to bring in world-class residences to our consumers in India," said Kapur.

Mr kapur is of belief that both the companies will get benefit from expertise of each other. Sumitomo group's global experience is expected to be of great benefit for the product that they are offering. He opines that all of this when seen together could help restore trust in the Indian real estate market.
The total development cost of Krisumi Waterfall Residences , a 65 acres property in Gurgaon is estimated to be around Rs. 9000 crore. This project will be funded using multiple resources including promoter contribution, internal accruals, and institutional funding.
For Takahiro Yamazaki, Co-CEO and director, Krisumi Corporation, India makes for a very strategic market. Discussing about his experince in India, Yamazaki said, "India is a wonderful place to be in and I am excited to be here, enjoying every bit of its culture and food."
Talking about business ties with Krishna group he further added, ""We are delighted to partner with the Krishna Group for the upcoming project. The Indian consumer today is evolved, has extensive global exposure and demands the best product compared to anywhere in the world. Krishna Group and Sumitomo Group perfectly complement each other's strengths and, together, look forward to creating a state-of-the-art product while working on our shared vision,".