Elan Group Has Achieved The Great Place to Work Certification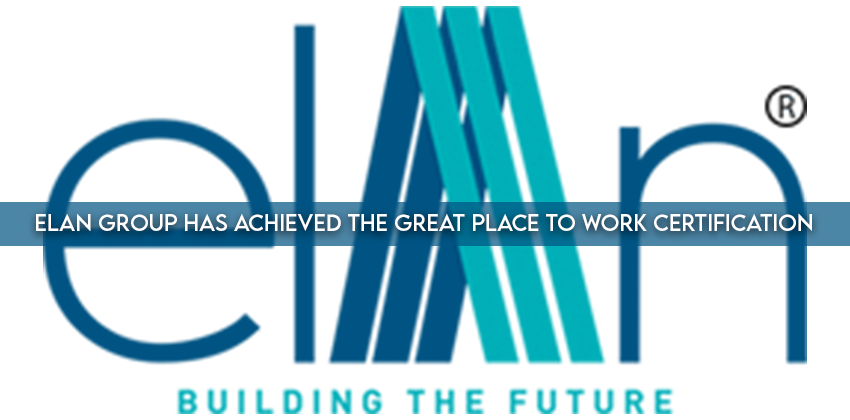 Elan Group is one of the most distinguished names in the real estate industry. The company has recently received a certificate for a Great Place to Work in the mid-organization category for 2023-2024. This certificate has been awarded in the company's favor of workplace policies and practices, underscoring Elan Group's commitment to fostering a positive work environment. 
Elan Group offers a mind-blowing work environment with an open culture, offering transparency and collaboration. The company's decision-making structure plays a very important role, coming up with a vision and purpose are effectively communicated to every member of the team. 
Akash Kapoor, Director of Elan Group said that the company is honored to come up with the Great Place to Work in the mid-organization category. The employees are the main core of the company. The employees strive to come to an inclusive, innovative, and growth-focused company. The award is going to highlight the commitment to creating an environment where your team can contribute to shared success. 
Do you want to know why Great Place to Work? From 1992, the survey has more than 100 million employees and gives a deep insight into defining what makes a trustable workplace. The Great Place to Work Trust Index Survey comes with feedback, real-time reporting, and insights. The institute comes with business, non-profit, and government agencies in more than 60 countries. It has also conducted pioneering research on the characteristics of great workplaces for more than three decades. 
The headquarters in Gurugram, Elan Group has made its position in the real estate sector, always setting new standards of excellence. The group came up with innovative design and architecture. Top-tier amenities, and unparalleled convenience. The group location in Gurugram has been designed around the "all under one roof" concept. The customer-centric approach of the company has made it the stronger and better, key driver behind Elan Group's remarkable success. 
The group's journey to prestigious recognition comes with steadfast dedication to enhancing its employees' experience. The building of a workplace that would encourage innovation, growth, and collaboration.