CPR & Loop is Linking Dwarka Expressway and NH-8 Open For Traffic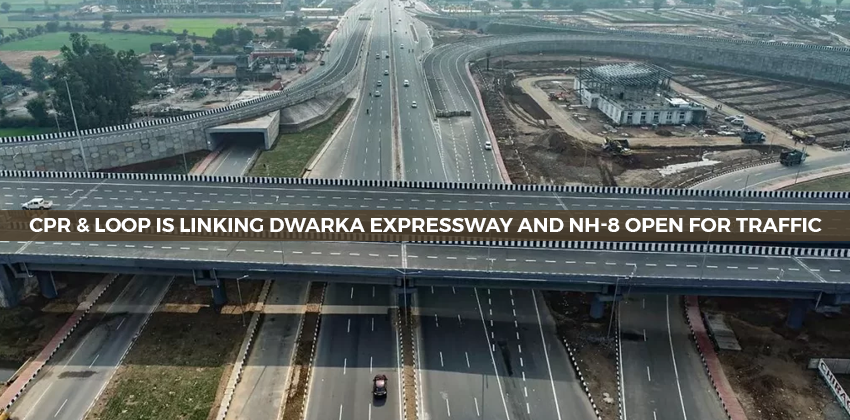 There's a big relief for residents of new sectors, Central Peripheral Road (CPR) as a part of the Dwarka Expressway project, links it with NH-8, and Southern Peripheral Road (SPR) was opened to traffic on Wednesday. 
It is partially opened, and commuters can now take the loop that would link the expressway with NH-8 while the other three are still closed. This move is expected to help reduce snarls on the narrow and potholed Narsinghpur service road. Those traveling from the expressway towards SPR can also use CPR instead of heading towards NH-8 and then taking a U-turn. 
There are tons of residents in various sectors along with the expressway and SPR was waiting for CPR to be operational. It will also reduce travel time to other parts of the city and Delhi significantly and also help commuters avoid paying tolls at Kherki Daula. 
It is also unbelievable to see traffic being allowed to ply on CPR on Wednesday morning. It has been blocking access to this crucial road all these months and has finally been removed. Just like other days, people get stuck in huge jams on the narrow service road at Narsinghpur. Now people can drive straight onto SPR and reach Sohna Road in just 20 minutes, said Ritu Gupta, a school teacher. 
The National Highway Authority of India (NHAI), claims that the city section of the Dwarka Expressway is almost ready. The commuters are also hoping that the entire 19 km stretch is operational before its launch, which is expected in the next 3-4 months. 
The opening of CPR is a big relief and it has also saved a lot of commuting time, some stretches are not really ready, and the hope that all the four-loop will open soon, Nikunj Garg, sector 37D resident. 
Rakesh Daultabad, area MLA has pushed NHAI officials to open the road. More access points to the Dwarka Expressway will be opened in the coming days. This part of the expressway is almost ready. The residents were still being forced to pay a toll every time they went towards NH-8 or SPR. CPR is also opened and it will also push for the remaining loop to be opened at the earliest. 
Nishant Yadav, Deputy Commissioner said that the remaining loops will get opened soon and the service road at Narsinghpur top will get repaired in the next couple of days. The NHAI officials informed us that the remaining loops need minor work and these too will be opened for traffic in the next couple of days. It will also ask them to recarpet the service road in the next 2-3 days, after which the traffic flow on the stretch will also improve.