2022: The Year of Booming Realty Markets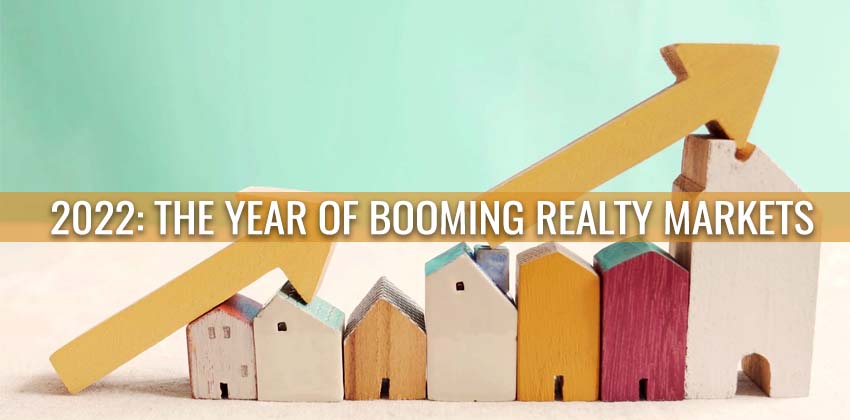 If we talk about the place that we've been hibernating since the outbreak of COVID-19 pandemic, then it has to be our home. The last two years have completely changed the ways we live, work, or play. We have become more homebound than going outdoors to resume our day-to-day activities or office. This time made people realise how important it was for them to stay safe in their own homes. The year 2022 is going to turn their realisation into an actuality through rising demand for homeownership. People's home buying dream has brought them to the point that they are more eager than ever to buy a home in the year — 2022.
With the economy turning towards a great recovery and real estate getting more affordable, we are all set to witness new growth numbers in the sales of real estate. People are not only planning to buy residential spaces but making investments in the commercial land sector too. The low cost of doing business is one of the major reasons many new Micro, Small, and Medium Enterprises (MSME) prefer buying commercial space to kick start their businesses. Today, you will find many small or medium businesses running their operations on bigger commercial plots.
While the prices of some commercial land like shopping malls, community complexes, and lodging facilities have gone down, yet on the other hand, businesses, including storage facilities, hospitals, industrial complexes, and huge data centers, whose space requirements have risen. If we talk about workspaces, in 2022, then there's a huge demand for new hybrid offices, wherein video conferencing is preferable, the core need for physical interaction will also survive. On psychological and sociological grounds, the hybrid workplace of the future will include a mix of both work-from-home offices and traditional office complexes. Besides the need for social distancing, it's important to introspect if the government will increase the square foot area per person while furnishing new building codes. If it happens, the year 2022 will offer a good boost wherein more space will be needed for industrial constructions as against the pre-COVID times.
Such positive projections are the result of the Government policies, which have been supportive to people hit by COVID-19 curbs. The new rules under Real Estate Regulatory Authority (RERA) will offer relaxation in completion dates for realty projects. Another significant step is the announcement of a 6-month loan moratorium by the apex bank, Reserve Bank of India, wherein sufficient time relaxations were granted to people for repaying their loans. Government norms allow for 100% Foreign Direct Investment (FDI) in real estate, but a September 2021 report predicted a good investment of about $3.5 billion in the real estate sector, which is almost 75% compared to last year.
To sum up, given the inclination of people to buy their own homes, the need for bigger homes, upcoming hybrid workplaces, and the infrastructural government's boost will make 2022 the ripe year to make investments in the real estate market.