Why is it Auspicious to Buy Property During Navratri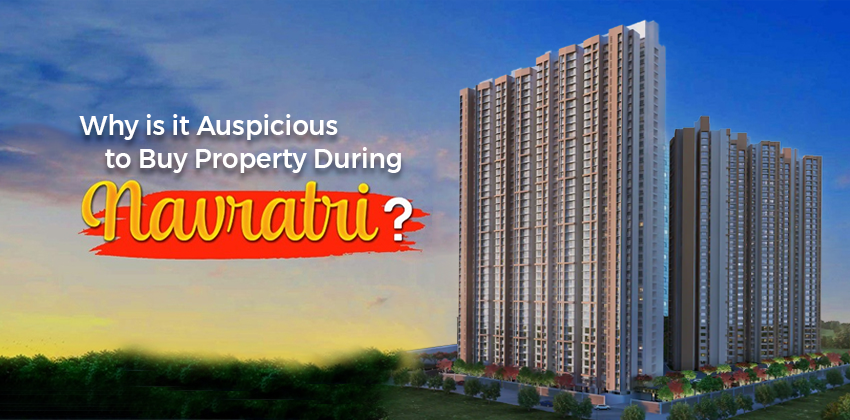 Nights adorned with celebrations, enthusiasm, happiness, and vibrancy within ourselves are a few major highlights of the festive season. Navratri is considered as one of the most auspicious festivals in India. People find it very lucky to invest in gold, real estate, and lots more. Developers of real estate also launch special offers for buyers at the start of this event. If you've been putting off investing in real estate, now is the moment!! 
Buying property during Navratri in India is appealing and pleasing at the same time as of the divinity and beliefs of the people of India as it's a festival of victory of Good over Evil. We India are deeply connected with divinity from the root. Purchasing luxury flats in Gurgaon will show the significance of how once you have taken a step toward a tremendous fortune by buying a flat and apartment in Gurgaon. 
Prime Reasons to Buy Properties during Navratri? 
Navratri is a festival of celebration, grandeur, and good luck and raises the bar for any collective opportunity to invest in real estate. The benefits of buying property during Navratri have a massive impact because of the various factors that allow you to start your life with a fresh new aura. 
Some prime reasons are listed below:
Schemes, Offers, and Discounts
Unlike some of the whooping discounts and offers on clothes, utensils, and electronic equipment, real estate prices decrease while discounts are imposed on them during festive times. It is a very good opportunity to invest in your dream luxury flats in Gurgaon as all of these offers are for a limited period of time. So you need to act really fast accordingly to offer your future a fortune. 
Flexibility in Payments
Flexibility in payments refers to the installment given to pay the complete amount. In short, it refers to the payment option where buyers do not have to pay for the whole amount. Some luxurious 3 BHK apartments in Gurgaon offer attractive installment options.  
Auspicious Period
As per Hindu mythology, the finalization of any purchase of a home should be done at an auspicious time. This auspicious time is otherwise known as "Shubh Muhurat" and one of these auspicious times is Navratri. Any puja related to property is done during this time as this period is considered to be very lucky and brings prosperity with the belief that it would appreciate in value. 
Top Luxury Properties To Invest During Navratri 
Some luxurious properties to invest in this Navratri are listed below
Elan The Presidential 
Elan the Presidential is a 7-star ultra-luxury living in sector 106, Dwarka Expressway. With a vision to develop the best-in-the-class futuristic homes. The apartments are the absolute best-specialized design, and architectural elements have been done just to guarantee that each residence is assembled and conveyed flawlessly and hoist fast to the best expectations of value and effectiveness. 
Whiteland Aspen 
Whiteland Aspen is an ultra-luxury apartment, situated at the city's most exclusive location, sector 76 Gurgaon. This project was developed by Whiteland Corporation. The project offers 3 BHK and 4 BHK apartments fully loaded with luxury amenities, giving you ample space with a lush greenery environment for a healthy lifestyle. One can also enjoy the breathtaking view of the Aravalli Range and the city's skyline. 
Paras Quartier 
Paras Quartier has become an exclusive address on the Gurgaon skyline, offering 4 BHK ready-to-move ultra-premium residences with a private lift lobby for each apartment. The project has been carefully designed to meet the ever-growing needs of its selective residents. Paras Quartier is the exclusive address on the Gurgaon skyline, marking the latest in luxury development from the esteemed Paras Buildtech. 
MRG Crown 
MRG Crown is a luxury low-rise floor in Sector 106, Gurgaon. This luxury residential project is located on a 99-meter-wide road, 0 km from Dwarka Expressway. MRG Group has also developed this project in sector 106, on 8.5 acres of land. This project offers 3 BHK luxury independent floors. You can enjoy your life at MRG Crown with premium amenities and robust connectivity. 
Don't wait for the good time as the good time is right here, right now!!!!
Navratri is undoubtedly a festival of wonder as it celebrates Good over Evil and the festive season is quite lucky for real estate developers and buyers.