Union Cabinet Has Approved Metro Connectivity In Gurgaon, Helping Real Estate Project On Dwarka Expressway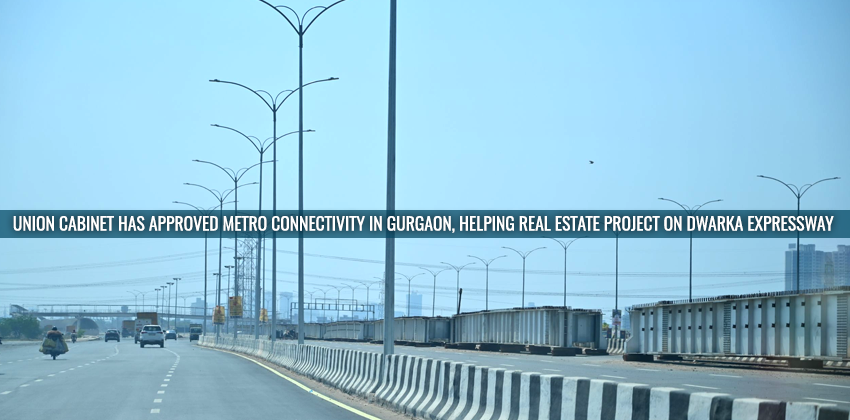 The union cabinet has approved metro connectivity from HUDA City Centre to Cyber City in Gurgaon. This is going to help the real estate sector in the region. So, the central government has approved a 28.50 km line having 27 stations on the route. The total cost of the project is going to be Rs 5,452 crore. 
The development is going to hold tons of potential in the real estate sector around the Dwarka Expressway and New Gurgaon, the commencement is also going to enhance this metro connectivity. The project is also going to be proposed to be completed in four years from the date of sanction of the project. This has also been implemented by Haryana Mass Rapid Transport Corporation Limited (HMRC). This is also going to be set up as a 50:50 Special Purpose Vehicle (SPV) of the Government of India and the Government of Haryana after a sanction order has been issued. 
In the past few years, the Central Peripheral Road along with Dwarka Expressway has seen mind-blowing growth. The completion of Dwarka Expressway is also heading to its final stages and the announcement of metro connectivity. The demand for residential properties is expected to see a further surge from both end users and investors alike, said the Managing Director of Krisumi Corporation, Mohit Jain 
The new and latest connectivity has seamless integration that will not only be going to give benefits to the commuters in Gurugram and Dwarka but also gives a fillip to the investment opportunity in the burgeoning areas near Dwarka Expressway. It is likely to increase the region's appeal to both homebuyers and companies alike. 
Vivek Singhal, CEO of Smartworld Developers said that the developments are more likely to spur infrastructure development. It is also going to unlock new opportunities for real estate investment. 
Ravish Kapoor, Managing Director of Elan said that the completion of Dwarka Expressway and the added metro connectivity further positions it. The most promising micro market in Gurugram is also going to attract homebuyers and investors seeking a vibrant and well-connected community. 
This metro is also going to enhance the operational functionality and it is also going to minimize congestion. This line will bridge old and new areas while enhancing connectivity and development. 
Santosh Agarwal, Executive Director and CFO, of Alpha Corp said that the line connects to the Indian Railway network. Its plans of integration with the IGI airport are going to enhance further convenience and connectivity which is going to benefit that area. The area has some major projects and development. 
Gaurav Bhalla, Managing Director of Vatika Group said the metro arrival is undeniably the entire area propelling Gurugram to unmatched heights of success and prosperity.