Top 10 Residential Projects in Gurgaon | Here You can Check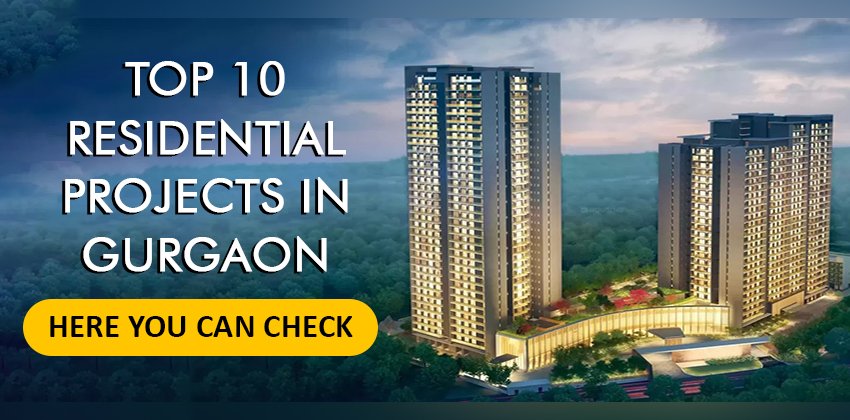 !!! Finding difficulty in short listing your dream home in Gurgaon? Here are top 10 Residential Projects in Gurgaon you may check !!!
Elan the Presidential
Elan The Presidential, sector 106, Dwarka Expressway, Gurugram is a 7-star development. A world-class residential project which is among the finest properties available around. The project is under construction and the project offers different configurations of flats. These property unit are designed perfectly to offer a happy lifestyle and are available from 3 BHK (1300.0 sqft-2700.0 sqft), 4 BHK (3075.0 sqft -3395 sqft), and 5 BHK (4095.0 sqft-4495.0 sqft). Elan the Presidential comes with exclusive amenities like a Mini cinema theater, lift, cafeteria, power backup, outdoor tennis court, security, gymnasium, swimming pool, clubhouse, CCTV Camera, and lots more.
M3M Golf Hills
M3M Golf Hills is situated at sector 79, Gurugram, offering 2.5 BHK, 3.5 BHK, and 4.5 BHK of various floors including best-in-the-class features inside it having a kitchen with cabinet making regular chores a fun desk, wooden flooring in the master bedroom, imported marble flooring, and on top of everything is anodized powder coated spacious balcony. Sector 79 is well connected to the other prominent sector of Gurgaon via NH-48. The sector is also connected to the Sohna Road and Golf Course Extension Road. The Nearest railway station to the locality is Gurgaon Railway Station which is around 20 km away. Indira Gandhi International Airport is around 30 km away and it can be reached in almost an hour.
M3M Crown
M3M Crown, a luxurious residential project is located in sector 111, Dwarka Expressway, Gurgaon. This project is a perfect blend of sophistication of modern life with subtle luxury and surroundings aura, making an ideal mix of your dream home. The project is designed according to the people's necessities and it is also considered to be one of the most pleasing residential projects. The luxury project in Gurgaon comes with 2 BHK and 3 BHK of different layouts with modern facilities. The project has close proximity to the border of Delhi-Gurgaon, IGI Airport, and the metro, making it an even more convenient and desirable destination for the residents. Sector 111 is surrounded by tons of greenery and proposals and a tranquil atmosphere for its residents.
Smartworld One DXP
Smartworld One DXP in sector 113, an upcoming residential project holding futuristic designs to match the modern living apartments. It is an outstanding opportunity to invest in 2.5, 3.5, 3.5,5+S BHK luxury apartments. It is designed according to the people's necessities and it is also considered one of the most pleasing residential projects. The group is also offering its luxury residential project in Gurgaon with 2BHK and 3BHK of different layouts with modern facilities. This luxurious property ensures the utmost protection and security of the building due to its powerful security system in the area.
Whiteland Aspen
Whiteland The Aspen is a high-end residential development in sector 76 of Gurgaon. The development features a selection of 3 BHK to 5 BHK apartments. Each of these homes is roomy and thoughtfully designed and laid out. The development is also the selection of convenient amenities such as a swimming pool, a fitness center, a kid's area, and an advanced surveillance system. The project also spans over 21 acres and it also has 621 apartments; sector 76 is also close to numerous schools, hospitals, and shopping complexes. Moreover, the project also has a lush green environment and well-kept gardens.
Oxirich Chintamani
Oxirich Chintamani Sector 103 Gurugram gives you an unmatched level of comfort and convenience. The premium residential project offers everything you need for a life of comfort. The project also offers modular kitchens, built-in wardrobes and air-conditioning apartments. It is also located in the prime area of Gurugram and the project also offers an unparalleled living vibe. It is also set with world-class infrastructure and modern amenities. The project consists of only 4 elegant towers with a three-sided open view from the maximum home unit and deck terrace, with high ceilings.
DLF The Arbour
DLF The Arbour is one of the most sought-after locations, Golf Course Extension, sector 63 Gurgaon. It is one of the most trusted developers in India offering a super luxury, fully furnished, and the lowest density skyscraper condominium after a decade. DLF The Arbour is the latest residential offering in DLF's acclaimed super-luxury portfolio. The project is spread over 25 acres of land and it offers a unique blend of luxury and comfort to its residents. It is a perfect choice for those who are looking for a lavish lifestyle amidst a serene environment.
Ashiana Amarah
Ashiana Amarah is a luxurious residential project which is built on sprawling wide acres of land on the Golf Course Extension Road in sector 93. The project offers 3 BHK and 4 BHK luxury apartments with panoramic views of the wonderful surroundings. The ventilation and the natural flow of light in all rooms are going to be astonishing. The residential development is planned for a luxurious lifestyle like no other. This luxury apartment in Gurugram comes with wrap-around balconies, corner homes, private lift lobby, offering comfort and well-being beyond equivalence. Ashiana Amarah is equipped with air conditioning and the floor pans adapt severely to the Vastu rules.
M3M Capital
M3M Capital in Sector 113, Dwarka Expressway, Gurugram is another luxurious address designed to nourish and foster the real essence of community living. The project is intelligently planned and developed by M3M India Pvt. Ltd. which is a world-class luxury residential development with sprawling green space offering highly efficient homes loaded with a never-ending list of amenities. The strategic location is at the border of Delhi and Gurgaon and it is spread across a massive area of 17 acres. The 2 BHK apartments are sized from 1300 sqft while the 3 BHK units are available from 1350 sqft to 1650 sqft, and 4 BHK are sized from 2060 sq ft to 2255 sqft.
Puri The Aravallis
Puri The Aravallis bang in sector 61, Golf Course Extension Road, Sohna Road where you can get 3 BHK or 4 BHK luxury apartments of different sizes. Each home is also a lodging complex that offers the occupants a lot of individual space and security. The total number of units available in the project is 320 having 4 apartments on each floor with 2 apartments of 3 BHK+S and 2 apartments of 4 BHK+S on every single floor, and the total number of basements in the project is three. Puri the Aravallis is a fully gated community with 24 hours security system and the connectivity is super good. It connects super well with some major locations like Dwarka Expressway, Udyog Vihar, Golf Course Extension Road, Ambience Mall, and major retail shopping centers nearby.