Top 10 Luxury Properties in Gurgaon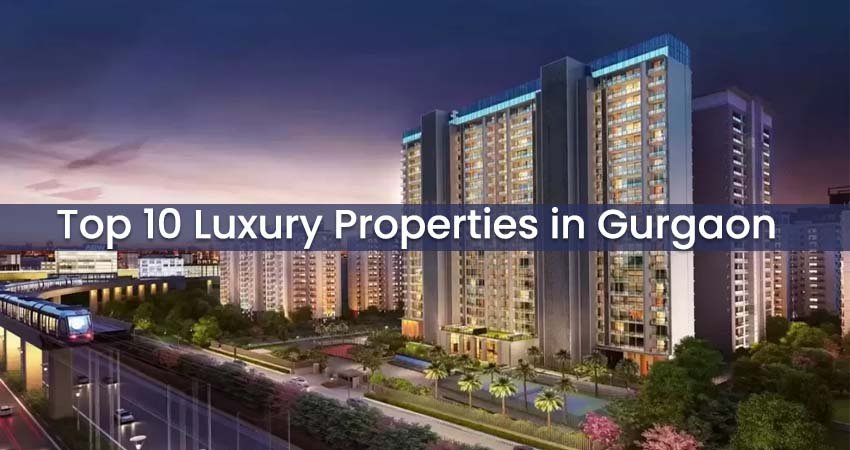 Top 10 Luxury Properties in Gurgaon
Gurugram is becoming a bellwether of luxury living due to continuous rise in living standards of people. This high surge for the luxury properties in Gurgaon is because of increased need of comfort and luxury among the individuals. Gurugram has now emerged from the slumber of last few years and is now ready for a poised comeback in the real estate sector especially in the luxury property sector. With facilities of complete automation, self-sufficient sustainable home, 24*7 power backup and 7-tier safety and security, Gurgaon has witnessed a drastic positive change in quality of living through these luxurious properties. Some of the best upcoming luxury  properties of Gurgaon to invest in are listed below:
M3M CAPITAL, SECTOR 113
M3M Capital located in sector 113 brings forth the opportunity to live within the surroundings of greenery and nature. The luxury of living in modern and smart environment with holistic approach will be enjoyed by residents. The project lies on the most sought location of Dwarka Expressway and provides spacious layouts of apartments in 2.5, 3.5, 4 and 4.5 BHK unit type with each family enjoying the lifetime view of central greens from their balconies. This township is one of its kind with spreading over the span of 236 acres, giving the residents ample space to explore commercial and retail stores, largest clubhouse, recreational activities etc. M3M Capital has enthralled the apartments to bask in the freshness of nature.
BIRLA NAVYA, SECTOR 63A
The project "Birla Estates Navya" aims to rejuvenate a lifestyle that revolves around freshness, harmony and balance through their "low rise floor" plans. Getting inspired from life, a serene ordeal of enrichment through well-thought details is exhibited in their 3 and 4 BHK units. This top-tier project is located in the premium location of Sector 63A, Golf Course extension road adjacent to AIPL Joy Square in Gurgaon. A lifestyle embedded in the modern living to provide unrivalled experience to its user, Birla Navya aims to raise the bar of sustainable lifestyle by setting new benchmarks of robust and premium infrastructure.
ADANI SAMSARA VILASA, SECTOR 63A
Adani Samsara Vilasa is a premium ultra luxury project strategically positioned in sector 63, Golf Course Road, Gurgaon, with sole mantra "to provide the users the experience of living a life full of affluence". This luxury property in gurgaon will take you on vacation of comfort and peace in your own abode of heaven. These premium low rise floors in Gurgaon are available in 3BHK and 4BHK unit type with each family living independently on a single floor. This township is one of its kind and spreads over the span of 18 acres, giving the residents their private space and a chance to better living.
SIGNATURE GLOBAL CITY, SECTOR 63A
Designed by Architect Hafeez Contractor and interior by Sonali Bhagwati, Signature Global City 63A becomes an ultra-luxury housing project that comprises of independent luxurious floors in the units of 2 BHK and 3 BHK. This project is spread across 5 acres of area where you can enjoy the perfect blend of luxury & health for a holistic living. This upcoming low-rise housing project is crafted in accordance with the requirements of its residents and this why, it is considered as one of the finest residential housing project of Gurgaon. These DDJAY low-rise floors provide the comfort, peace and luxurious amenities within the range of middle-class section of society.
SHAPOORJI PALLONJI JOYVILLE, SECTOR 102
Shapoorji Joyville Gurgaon spans over 18 acres of area with the wide range of 2 & 3 BHK apartments. These ultra-luxurious apartments are designed with optimum use of space and keeping in mind the comfort of its residents. Active and energetic lifestyle is lived by the inhabitants with its modern range of amenities starting from gym, spa, clubhouse, sports hub, jogging track, party hall etc. to make your sedentary day, a lot better. Located near the upcoming retail destination of gurgaon, Dwarka Expressway, Joyville gurgaon becomes the best option for those who aspire to live the lifestyle filed with opulence.
TULIP MONSELLA, SECTOR 53
Known for creating world-class luxury residences, Tulip group is presenting "Tulip Monsella" in sector 53 where marvelous architectural design will be witnessed. Being located at Gurgaon's most prestigious location of sector 53, golf course road, this residential project enjoys excellent connectivity with other key points of the city. Tulip Monsella offers 3, 4 and 5 BHK apartments with bulk loads of top-notch amenities that residents can enjoy for their life. These ultra-luxurious apartments will offer uncountable location benefits where all the key parts of city are just stone's throw away.
EMAAR DIGIHOMES,  SECTOR 62
Emaar Digi Homes is another luxurious residential project that deserves to be in the top charts of gurgaon's luxurious lifestyle. Located in sector 62 of gurgaon, the project offers 2 and 3BHK apartments to the residents in the heart of the prime golf course extension road. These smart and automated apartments are designed to work on touch and voice command of the inhabitants giving them pure luxury feels. Emaar Digi Homes promise the best quality of luxury living to its residents by providing high construction quality.
CONSCIENT HINES ELEVATE, SECTOR 59
Conscient Hines Elevate is an ultra-luxury residential project on prime location of golf course extension road designed to make its residents feel "elevated." All the aspects of these 3BHK flats have been meticulously designed to create a well organized lifestyle for its users. Live a lavish lifestyle amidst lush surroundings of sector 59 with Conscient Hines Elevate. This residential development spanning 7.78 acres is a touchstone of luxury living inspired by nature. This luxurious housing project provides you a unique chance to live in a community with easy access, lots of facilities, and more than 75% open space.
HERO HOMES, SECTOR 104
Hero Homes are one of the top luxurious residential projects in Gurgaon to gain the trust of people. They are known for providing holistic, elevated and enriched lifestyle to their inhabitants. Located at the upcoming iconic retail destination "Sector 104, Dwarka Expressway", Hero homes developed their project on the parameters of fitness, sustainability, community and creativity. Featuring 2 and 3BHK smart apartments that respond to your comfort, hero homes provide positive energy and healthy lifestyle to the residents. For peaceful surroundings, Hero Homes expand their thoughts to build smarter solutions for environmental, spiritual and physical wellness that includes yoga area, open green spaces, jogging track, cycling track etc.
GODREJ MERIDIEN, SECTOR 106
Premium 3 and 4 BHK apartments of Godrej Meridien sector 106 open the doors to the unparalleled luxurious life for their residents. This luxury project provides the plush resort like environment for their users to experience the luxury living. Godrej Meridien provides an elevated lifestyle for those who deserve the best. Location of Dwarka Expressway is the epicenter of this project making it perfect for grandeur lifestyle.
Due to forthcoming of such luxurious projects and rising demand for world-class living, real estate experts have forecasted that Gurgaon's real estate value will rise significantly in the coming decade. So, if you're looking to invest in real estate, these luxury properties of Gurgaon will surely give you a good return on your investment.