The luxury address OF GURUGRAM!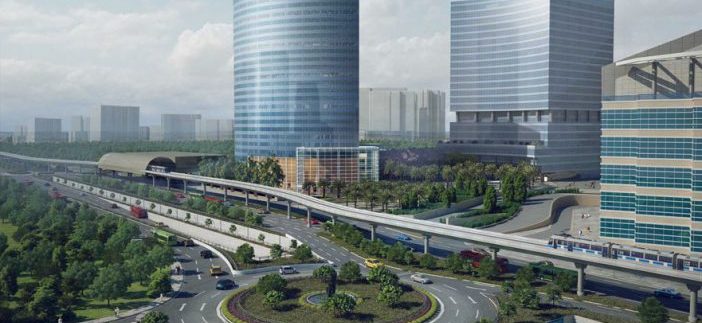 Golf Course Road has carved a niche for itself owing to world-class infrastructure, excellent connectivity, and vibrant social infrastructure. Today, the region has become a hub for luxury housing and commercial office spaces.
Gurugram – the Millennium City – has emerged as a major financial and industrial hub with the third-highest per capita income in India.
Notwithstanding recent developments in other areas of the city, Golf Course Road remains on the very top as a high-end luxury destination – both from office and residential perspective – making it an integrated and self-sustainable micromarket of the future.
WHY GOLF COURSE ROAD
The newly constructed 16-lane expressway with 3 underpasses connects NH-8, Cyber City, Sikandarpur to Golf Course Road – making it completely signal free. This will ensure that commuters from the Delhi border (NH-8) reach Golf Course Road (GCR) within 10 minutes!
This has further improved the attraction of the developments around GCR.
GCR is connected to Sohna Road through Golf Course Extension Road.
Bolstered by a slew of infrastructural developments, GCR has emerged as the 'luxury address' of Gurugram. One of the major aids in connectivity is Rapid Metro, which is a boon to commuters. Plying over nearly 11.7km, it connects areas like Sectors 42, 43, 53, 54, 55, and 56, reducing travel time and providing last-mile connectivity.
GCR is well connected to Faridabad through two roads. Two underpasses in the area have further eased congestion.
Excellent connectivity and infrastructure have undoubtedly given a fillip to the real estate projects on GCR.
In fact, the country's largest developer, DLF, played a vital role in developing the area into the most sought-after luxury destinations – for residential as well as commercial – in the city. DLF developed one of the country's oldest golf course, DLF Golf and Country Club, along the road.
USPS
If you are planning to move to the most popular satellite towns of the NCR, you are sure to find a host of best-in-class properties on GCR. Luxury condominiums like Aralias, Magnolias, Salcon Verandas, Emaar Palm Springs, etc, offer ultraluxury living, replete with modern amenities, to corporate honchos, HNIs, and expats. The average capital values of residential properties in and around GCR range from Rs 12,000 to Rs 30,000 per sq ft. Among the recently launched projects here is "The Crest", which has 765 spacious, well-appointed three- and four-bedroom apartments, complete with private decks. Launched in May 2013, the selling price of units in this project is Rs 5 crore and over.
"Raghvendra Road (erstwhile Golf Course Road) has carved a niche as one of the most coveted addresses of Gurugram, hosting ultraluxury housing, business powerhouses, shopping avenues, and world-class amenities for entertainment and leisure. Our latest offering at Park Drive, off Raghvendra Road, The Crest, is in line with our vision to offer unmatched living experience to our patrons. The show stopper in The Crest is the grand clubhouse designed by Richmond International UK," Aakash Ohri, senior executive director of DLF5, said.
"DLF5 is a state-of-the-art, integrated development offering high-end residential, commercial, retail, and community facilities. More than just bricks and mortar, DLF5 aims to provide a world-class lifestyle in Gurugram, with a world-class living experience for residents. Residential lifestyle reaches new heights with high quality super luxurious apartment communities," Ohri said.
TOP SECTORS
Sectors like 25, 42, 58 on GCR are considered as top luxury residential and business hubs with offices of international brands, coming with well-developed social infrastructure. The IGI airport is 16.3km from the area.
Most condominiums offer in-house sports bars, health clubs, spas, conference rooms, entertainment areas for guests, lifestyle concierge services, tight security, and small theatres. Apart from the location, gentry, privacy, and living in a community of like-minded people, this is a perfect address for a home and not just a PIN code, a DLF official said.
COMMERCIAL
GCR has also emerged as the most soughtafter destination for commercial office space. One Horizon Center and Two Horizon Center are designed by international architects and offer state-of-the-art retail amenities, high-end technical specifications, with premium quality construction.
These buildings command the highest rental values on this stretch and are a home to several Fortune 500 companies. The area has also emerged as a hub of social infrastructure with shopping malls, schools, hospitals, restaurants, and bars – all located in the vicinity. Parveen Jain, vice-chairman of Naredco, says: "Golf Course Road can be considered as the first, the foremost, and the earliest prime location of Gurgaon, which is now the cynosure of the real estate market. Golf Course Road is where international and national offices of top brands are located, side by side. Same is the position of high-end luxury housing, commercial spaces, and shopping malls, which are all present here."
PROPERTY SCENE
Raj Singh Gahlot, CMD of Ambience Group, says: "The growth and development of Golf Course Road has been rapid and continuous over the years with top developers vying with each other for space in the vicinity. Property prices have always been amongst the highest on Golf Course Road and will continue to be in the highest range in the future as well."
source: timesofgroup