Manohar Lal Khattar States Kherki Toll plaza to shift in 6 Months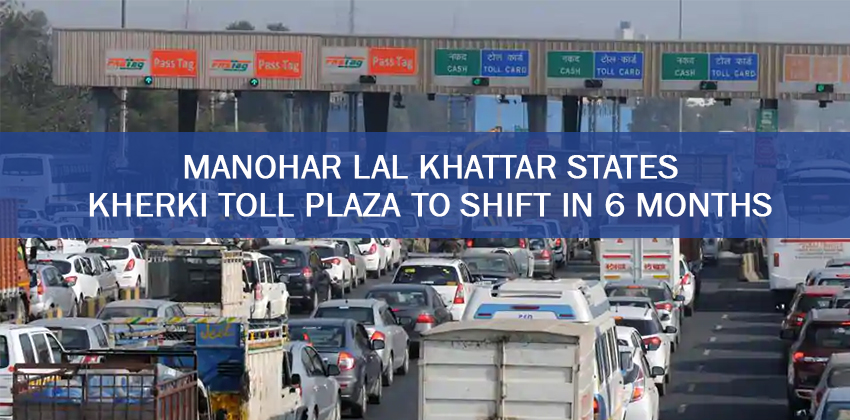 The good news for many industrialists and residents has been doing the rounds that toll plaza will get switch from its current location in next 6 months. This news will bring relief to lakhs of residents and factory owners based in Manesar.
"The land that has been earmarked for construction of a new toll plaza will be transferred to the agency concerned by February 28. Thereafter, it will take three to construct the toll plaza and shift it", Mr. Khattar further added. Going by government's plan, the Kherki Daula toll plaza will get shifted to Panchgaon on Delhi-Jaipur highway. Owing to litigation, it is said that there has been considerable delay in handing over the land.
Mr. Khattar has also said that there is a plan to connect Manesar with Bawal through Metro rail. The anticipated cost of development of Metro rail by Haryana Mass Raipid Transport Corporation is around Rs 8000 crore. This will boost connectivity across South Haryana.
City residents has been demanding for removal of Kherki Daula toll plaza since long and better connectivity between Gurugram and Manesar was a long awaited dream. Many factory owners and workers in both municipal areas were also demanding it.
In 2017, it was stated by union transport minister Nitin Gadkari that the toll plaza will be transferred in case state government makes land available for it to National Highways Authority of India (NHAI). However, there will be delay in this proposal as land first recognized at Sehrawan near Manesar and later at Panchgaon came under legal action. The project's concessionaire has also approached the Delhi high court in relation to this matter.
Rao Inderjit Singh, Gurugram Member of Parliament, had met Gadkari and raised the issue of shifting the Kherki Daula toll plaza.
Mr. Khattar has also announced the development of a new hospital in Manesar, increase in Floor Area Ratio for industrial plots from 125 to 200, raise in height limit for fire NOC from 15 to 18 meters and development of women's police station in the industrial township. The announcement made by CM raised positive hopes in Mansear based factory owners who earlier said that freeing the highway from kehrki toll was much needed and ease of estate management norms was necessary for industries to survive.
As said by said Pawan Yadav, president IMT Industrial Association, Manesar "The toll should be shifted at the earliest and the decision related to plots and providing streetlights and other basics will boost industry in a big way,".