Inspiring Tale of Two Men Who Boosted Delhi-NCR's Growth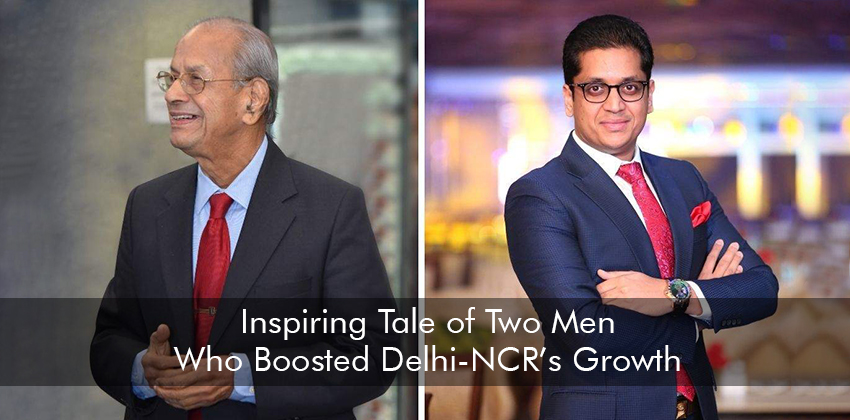 Delhi is the political never center of the country which attracts people and businesses from all over India. Neighbouring regions such as Noida and Gurgaon are blessed with economic prosperity and have been a hub of high skilled jobs of India. Delhi-NCR has become one of the best choices of migrants to settle and make their career but the region's infrastructure is still not in line with the expected pace of development.
Public transportation was deteriorating at the seams and needed quick intervention and visionary planning. Thankfully, the Delhi Metro came to our rescue and became life line of Delhi NCR region.
A shining example
The epitome of brilliant long term professional planning is the Delhi Metro. The credit for this exemplary public transport marvel in Delhi goes to the legendary civil engineer Dr E Sreedharan.  Today, he is better known as the "Metro Man". He serves as the advisor to many metro rail projects across India. He has completely changed the face of public transport not only in the capital of India but all over India. He was also bestowed with the Padma Vibhushan in 2008, the second highest civilian award in India. NCR saw dramatic changes in metro rail network. Gurugram has called prominent personalities of the global corporate world and then came the second big challenge. The need for housing and commercial facilities emerged for the ever aspiring and ever burgeoning middle class that's settled in NCR. This was a game changer.
A young graduate of Harvard Business School has decided to grab this challenging opportunity. Mr. Pankaj Bansal, the M3M Group director, decided to empathize with the situation of middle class Indian home buyers and develop homes for them as they could only dream of buying one. He understood the need of middle income group and engaged himself in fulfilling their dreams. Mr. Pankaj Bansal formulated, planned and executed the development of projects. This visionary approach enabled the realty sector win accolades from across the world and meet global standards. The Indian realty market started seeing growth figures soaring.   
Mr. Bansal further bought improvement in the sector by collaborating with reputed global firms. Indian realty sector saw best international practices getting implemented. M3M signed agreement with Swedish international firm called Urban Systems urb AB to build a smart city project. This agreement got signed during an Indo-Swedish business leaders round table conference in the presence of Swedish King Carl XVI Gustaf.
M3M also partnered with Trump Towers to bring a world class real estate experience to North India. He spearheaded the launch of about 34 M3M projects Gurgaon, all very in close proximity to the metro and other leading landmarks of the city.  M3M projects Gurgaon are acknowledged for robust construction, top quality architecture, and innovative designs. If you wish to choose a real estate developer of unparallel repute, M3M Gurgaon is the name you can bank upon for peaceful and reliable living