Infrastructure Increases In Gurugram Bodes Well For The Realty Market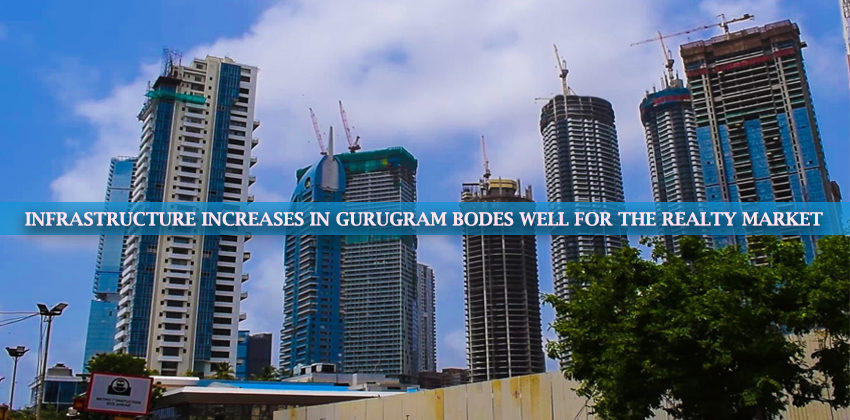 Gurugram, a bustling city in the National Capital Region (NCR), is expected to experience a significant boost in its realty market for its infrastructure developments. The Millenium City is rapidly increasing as a dynamic commercial and residential hub in the entire NCR. The city's infrastructure development project involves substantial government investment and the private sector. The participation is also expected to propel the city to new heights while attracting investors and homebuyers. 
The Cloverleaf Flyover project has importantly improved travel time and also reduced congestion, while developments like Dwarka Expressway and NH-48 have enhanced connectivity. The mind-blowing connectivity has improved accessibility for commuters and it also opened new avenues for real estate development. It also attracts investors and homebuyers, fostering economic growth. Due to this recent development of the Metro link from HUDA City Center to Cyber City is also expected to give a little push to the real estate market in the region. This rapid expansion of the Delhi Metro into Gurugram has significantly boosted the real estate market. It has also enhanced convenience and accessibility while increasing property value. This seamless integration of Gurugram with the metro network further enhances the city's appeal to investors and buyers. 
The growth of Gurugram's infrastructure has raised the demand for residential and commercial properties. It is going to attract homebuyers and investors. This city is going to offer excellent connectivity and amenities, making it even more attractive for investors. It is also going to indicate a positive outlook for its future as a thriving economic and residential center, said Jatin Lohia, Managing Director, LID.
 Pradeep Aggarwal, Founder & Chairman, Signature Global (India), said that the metro extension from HUDA City Center to Cyber City, development holds massive potential, particularly for the real estate around the Dwarka Expressway and New Gurgaon. It is also going to boost a significant infrastructure. In fact, the commencement of this metro connectivity is going to create numerous investment opportunities, while generating employment. This is also going to foster growth in the real estate sector of Gurugram. 
The infrastructure development has been the catalyst for the remarkable growth in Gurugram's real estate. It is going to propel to its new heights and establish it as a thriving investment destination. After the completion of the Dwarka Expressway Haryana stretch of Cloverleaf and world-class highways and state-of-the-art infrastructure. It is also to enhance connectivity within the city but also attract both domestic and international investors. These developments are going to create an impact, where infrastructure fuels the demand for residential and commercial properties while driving the overall growth and prosperity of the Gurgaon real estate sector, said Santosh Agarwal, Executive Director & CFO, of Alpha Corp. 
This infrastructure is going to push residential development to the industrial and commercial sectors, with the establishment of industrial parks, business centers, and technology. The city is also going to experience significant progress in social infrastructure, with various renowned educational institutions, healthcare facilities, and various entertainment hubs.