Gurugram: Widening of Shankar road to take two more months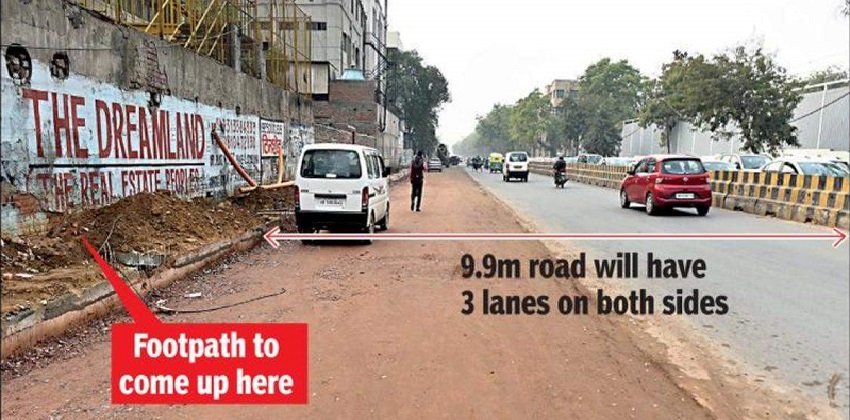 Almost a year and a half after it was proposed, the widening of Shankar road is still incomplete and is likely to take two more months to finish, said sources within GMDA.
While the work for the widening of the road has been done, carpeting the carriageway on one of the sides is still pending, and so are the footpaths and cycling tracks that are supposed to run along the stretch.
A GMDA official that the project got delayed due to the NGT ban on construction for pollution control. "We have started the work again after the temporary halt. It should be completed at the earliest," said a senior GMDA official.
Following complaints of heavy traffic congestion from the companies who have offices in Udyog Vihar that lies along the road, GMDA had chalked out a road widening plan and a traffic management plan along with HSIIDC in 2018.
It was planned that the road connecting Shankar Chowk and Old Delhi-Gurugram Road will be widened to a total length of 9.9 m with three lanes on both sides, at an estimated cost of Rs 7 crores. Shankar Chowk was also being developed to be among the first few roads to get disabled-friendly footpaths.
As of now, the GMDA appointed agency is carrying out the work of removing the electric poles from the surface of the road and laying power cables underground. Once this work has been completed, the work for carpeting is likely to begin.
Meanwhile, the commuters especially the pedestrians are having a very difficult time walking on the road due to the absence of the footpaths.
"I walk down from Shankar chowk till my office and it is a nightmare to walk. They have widened the road and removed the footpath and unless it is made again, we have to walk on the main road which is very dangerous," said Swati Sharma who works with a private company in the area.