Gurugram Hikes Circle Rate at Posh Localities by upto 90%
Gurgaon administration has decided to increase the circle rate by upto 90% at some of the posh localities of the city, at a time when the real estate sector is still recovering from the setback by COVID19.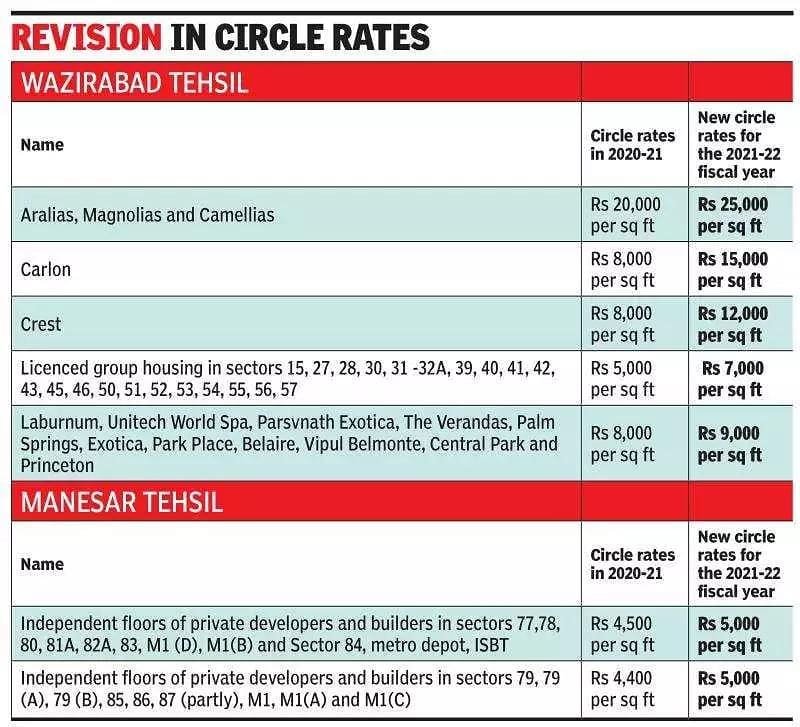 Circle rates at DLF's Camellias, Magnolias and Aralias, which houses one of the costliest condominium in the country, has been increased from Rs 20,000 sq ft to Rs 25,000 sq ft.
While circle rate at DLF's Carlton and Crest has been increased from Rs 8,000 sq fr to Rs 15,000 and Rs 12,000 respectively.
"The revived circle rate will be applicable from April 8. Registry happening from Thursday will have to done as per the new circle rate," the revenue department said in an order.
The circle rate for group housing in sectors 15, 27, 28, 30, 31, 32A, 39, 40, 41, 42, 43, 45, 46, 50, 51, 52, 53, 54, 55, 56 and 57 has gone up from Rs 5,000 per sqft to Rs 7,000 per sqft.
For flats in group housing societies and plots in licensed colonies in sectors 58, 59, 60, 61, 62, 63 and 63A, rates has been increased to Rs 5,000 per sqft from the current Rs 3,500 per sqft.
The circle rate for Laburnum, Unitech World Spa, Parsvnath Exotica, The Verandas, Palm Springs, Exotica, Park Place, Belaire, Vipul Belmonte, Central Park and Princeton is has been increased from Rs 8,000 per sq feet to Rs 9,000 per sq feet.
While the circle rates for builder floors in licensed colonies has been increased from Rs 5,500 per sqft to Rs 6,500 per sqft, which is likely to impact the pricing of independent floors in the city.
Source : ET