Circle Rates to Rising in Gurugram Implying Higher Rates of Land or Home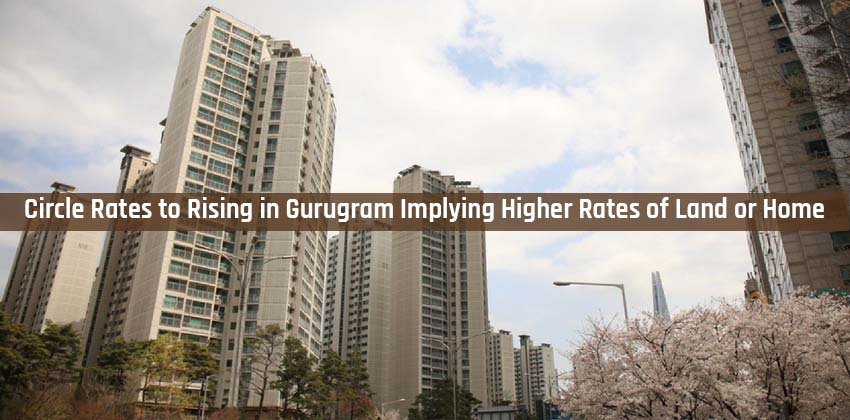 If you're planning to buy property in high-end condominiums of Gurugram, then you'll have to set aside a higher budget. The reason is that the government has approved the rise in circle rates of properties in Gurgaon. It has made the registration of properties expensive where new housing projects are available in the city. The circle rates of sectors adjoining the SPR, Golf Course Road, and Dwarka Expressway have gone up to 25%.Commercial sector rates remain unchanged.
Circle Rates are the minimum price defined by the government at which transfer or sale of plot, land, commercial property or apartment takes place. Also, you can not register property below this price. Stamp duty and registration charges are based on this price.
The circle rates of sectors located along the SPR, 58 to 65, have gone up by Rs 6000 per square yard. These sectors are close to the Rapid Metro corridor. The new circle rates are Rs 36,000 per square yard. In DLF Phase-2, the circle rates have gone up to Rs 85,000 from Rs 77,000.
The sectors along golf course road have gone up by Rs 5,000 to Rs 55,000 per square yard. The circle rates of sectors located along Dwarka Expressway have increased from Rs 30,000 to Rs 36,000 per sq yards.
If we talk about the colonies, then circle rates have gone up in the range of 5 to 10% in Gurugram and wazirabad tehsil. 25% hike in circle rates were seen in Badshapur tehsil and 10 to 15% in Manesar.

Gurgaon's cooperative Group housing society witnessed a hike of 66% in circle rates which was followed by Manesar 38% and wazirabad 5-10%.
If we talk about multi-storeyed group housing and builder floor, the circle rates rose 30-40% in Manesar and 10-20% in Gurgaon.
Leading real estate developers are of the view that these hikes in circle rates will adversely affect the real estate sector, which saw a difficult phase due to the pandemic.
Property cunsltans, says, "Higher purchase costs resulting from higher circle rates may impair the already ailing residential real estate market, with secondary market implications being
more severe.
MD of Trehan Group, Saransh Trehan, said the government's decision to raise the circle rate would put the burden on homebuyers in the form of high registration and stamp duty. He said, "This should have been avoided, especially during the pandemic,".
Pradeep Aggarwal, chairman of Signature Global, added, "Higher acquisition costs caused by higher circle rates will dampen sentiments. An objective market assessment of property prices is the need of the hour but the approach to determining circle rates needs to be reconsidered in order to capture the market rates more accurately".