BPTP 102 Eden Estate- a noteworthy breakthrough in realty market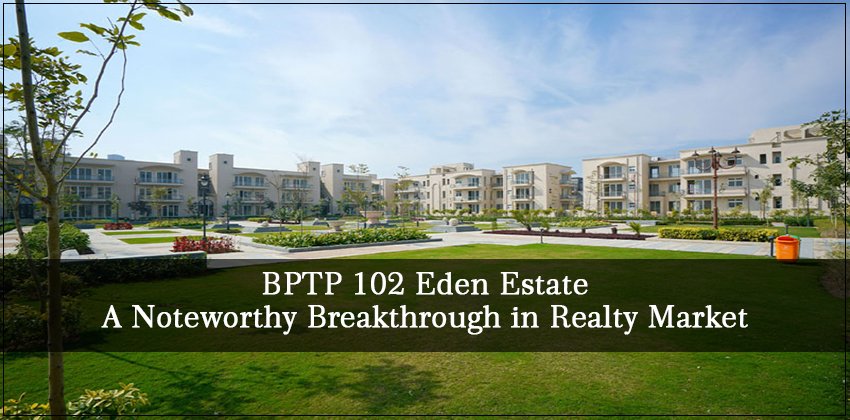 Kabul Chawla's, Chairman and Managing Director of BPTP Ltd., visionary approach and dedication has transformed simple lifestyle beyond 4 walls and changed the Indian philosophy with a unique approach.
BPTP 102 Eden Estate Plots Gurgaon hold well-defined and strategically driven portfolio of a variety of projects in superb localities including Noida, Faridabad, and Gurugram. Recently, BPTP property in Gurgaon, BPTP 102 Eden Estate Plots Gurgaon have gained an enormous respone.
102 Eden Estate is a newly floated project by BPTP. BPTP 102 Eden Estate Plots Gurgaon are a prominent part of the existing and delivered gazebo integrated township, Amstoria, located in Gurugram, Sector 102. BPTP Amstoria is situated near Dwarka Expressway, which is just a few minutes away from IGIA, terminal 3.
BPTP 102 Eden Estate Plots have international schools, hospitals, shopping complex and commercial. These civic amenities are available for the comfort and convenience of the investors and end-users. BPTP 102 Eden Estate Plots Gurgaon is offering golden chance to invest in plots that are a part of an already functional township with families living and exploring the operational, physical, and social infrastructures in the premium vicinity of Gurgaon.
BPTP property in Gurgaon is an amplification of a striking theme that revolves around life. By Life we mean the best Location, Investment, Freedom, and Environment. BPTP 102 Eden Estate Plots have all the wonderful provisions that make living experience a beautiful journey for its residents.
Whether it is the occupants of Amstoria or Eden Estate, the ultra modern amenities of BPTP property in Gurgaon are modern and advantageous for its end-users.
The graceful BPTP 102 Eden Estate Plots Gurgaon stretches in 126 acres of land in 102 sector of Gurugram that facilitates the investors and end-users smooth connectivity through the widest expressway (150 meters wide NPR) and the Upper Dwarka Expressway (75-meter wide road).
BPTP 102 Eden Estate Plots were launched in Navratri 2020 with the possession promise in two years. Eden Estate has the added advantages of the neighbourhood of the premium township of Amstoria.
BPTP 102 Eden Estate is the latest property in Gurgaon to the kitty of BPTP proud projects with a 2-acre sanctuary club that includes ultimate amenities including kids zone, theatre, pool, restaurant, spa, water bodies, etc. The entire area is the provision of high-end CCTV surveillance managed by skilled authorities. The project offers service roads, signboards, street lights, guards, etc. to make commutation easy in late hours.
Bptp property in Gurgaon had proven to be the most favoured asset in the market, if we talk about investments in India. If you are planning to buy property in Gurgaon, then you must consider buying BPTP 102 Eden Estate Plots in Gurgaon.
The launch of Eden Estate has gained lot of recognition which comprehend the vision and mission of Kabul Chawla. His work portrays dedication to bring 'Affordable Luxury' in limelight.
When you buy plot at BPTP plots in Gurgaon, then you automatically get the selective advantages of brand name, location, outstanding amenities, and connectivity. All these advantages make BPTP 102 Eden Estate plots the most thriving project to date.
The well reputed developer, Bptp property in Gurgaon has grown its wings in Delhi NCR, and to date, the same company is handling more than 30 ongoing projects under the mentorship of Kabul Chawla. With diverse strategies and concepts, BPTP property in Gurgaon is rolling and touching the contours of real estate in Delhi NCR.